Tired of toast and cereal? Start your morning with one of these MG-friendly breakfast recipes.
Mornings look different for everyone. Some people are ready to get out of bed bright and early. Others like to burrow under the covers and fumble around for the snooze button as many times as their schedule will allow!
No matter how your day begins, eating a well-rounded breakfast is a great way to get started. Studies have shown that eating breakfast daily can lead to a boost of energy in the morning and throughout the day, which may be helpful for people living with myasthenia gravis (MG).1 But while many breakfast staples like eggs and toast are simple and don't require much energy to make, they may get old quickly if you eat them all the time.
With that in mind, MG United took to the kitchen and created a couple MG-friendly breakfast recipes to add a little variety and a lot of taste to your morning meal.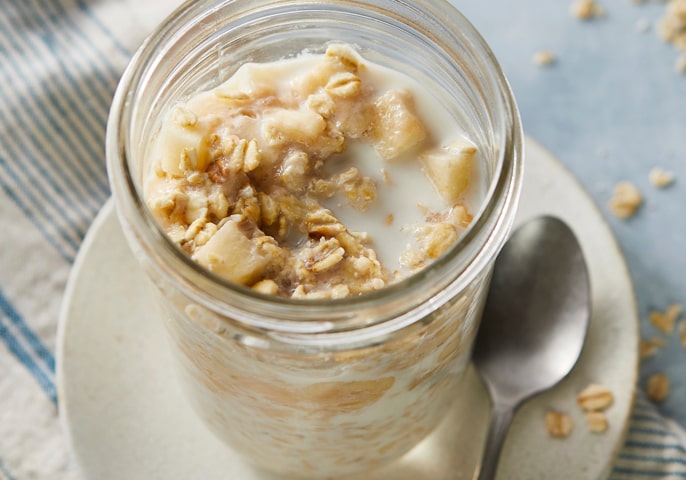 INACTIVE PREP TIME:
6-8 HRS
Ingredients
You will need a 16 oz mason jar or (2) 8 oz mason jars with lid(s)
½ cup rolled oats
¼ tsp cinnamon
1 pinch nutmeg
¼ tsp vanilla
1 pinch ground cloves
1 pinch salt
½ mashed banana
½ small apple (peeled and diced)
1 cup dairy milk or unsweetened non-dairy milk
Banana Apple Overnight Oats
Directions
In a large bowl, mix all ingredients until thoroughly combined.
Fill the 16 oz mason jar with the mixture (or evenly distribute between the two 8 oz mason jars). Close lid tightly.
Refrigerate overnight 6-8 hours. Oats will double in size as they absorb the liquid overnight.
Yield: 2 servings
Tip: Pure maple syrup (1 tsp) or honey (½ tbsp) may also be used as sweeteners instead of a mashed banana.
*Instant oats are not recommended.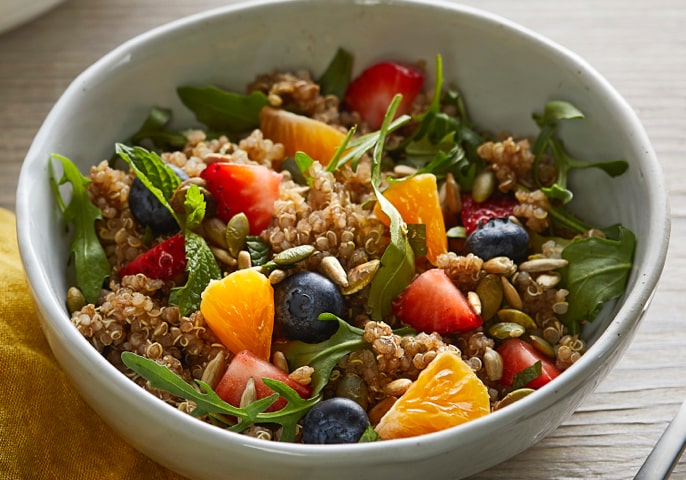 Ingredients
½ cup blueberries
½ cup strawberries, sliced
1 mandarin orange, peeled and cut
1 cup cooked quinoa (cook quinoa according to package directions)
⅛ cup balsamic vinegar
1 cup arugula
1 tsp chopped mint
1 tbsp lime juice
1 tbsp honey
Optional: sprinkle of toasted unsalted nuts or seeds of choice (pumpkin, sunflower, small chopped almonds, etc.) for topping
Quinoa Breakfast Salad Bowl
Directions
Cook quinoa according to package directions and let cool.
In a large bowl, mix quinoa, blueberries, strawberries, oranges, balsamic vinegar, honey, lime juice and mint until properly combined.
Mix in the arugula.
Optional: When ready to serve, top with a sprinkle of toasted, chopped nuts or seeds.
Optional: Toast nuts/seeds for a smoky flavor
Turn on low heat under a skillet. Do not add oil. The natural oils in the nuts/seeds will be released as they begin to cook.
When skillet is warm, add in chopped nuts or seeds.
Periodically stir nuts/seeds until you begin to smell them.
Remove nuts/seeds from skillet and allow to cool.
Yield: 1-2 servings
Please consult your healthcare team for which recipes are best for your dietary needs, whether any modifications would be appropriate, and consider any allergies or dietary restrictions before making these recipes.