Eric felt like all he could do was sit by and watch Shalonda's symptoms get worse and worse.
The day her symptoms began felt like any other day until her left eye suddenly turned inward in the middle of a conversation. And a visit to the emergency room didn't shed any light on what might be happening. Several months went by before Shalonda received a diagnosis of myasthenia gravis—months of uncertainty, worry and, for Eric, a feeling of helplessness.
"She just went downhill so fast," he said. "There was nothing I could do. I could just sit there and watch her go from laughing and joking to barely being able to eat, tossing and turning, scared."
Mealtimes were a source of worry. So was going to work. As Shalonda's primary caregiver, Eric often felt torn between his other responsibilities and his constant worries about her safety.

"I worked at night and I had my own business in the daytime," he said. "I was just trying to make ends meet and it was hard being away from her." Like many other supporters of people living with MG, he worried about what might happen if an emergency came up while he was away. 

He had to adjust not only to a new set of caregiving responsibilities but also to a drastic shift in the most important relationship in his life. In the 11 years prior to Shalonda's MG diagnosis, they'd been foster parents to over 40 kids, some as young as newborns. "We had a great relationship before MG," he said. "Everything was rosy and happy." 

After MG, things changed—because they had to. Eric admits it was sometimes a struggle. He found himself missing the time they used to spend taking long drives and talking. "Not that we didn't love each other," he added. "We loved each other, but we had to work every day to make sure she was okay."

Sometimes, that has meant shouldering a heavy burden on his own. When Eric's mother passed away at 85, it happened to be while Shalonda was in the hospital recovering from surgery. Despite Shalonda's close relationship with her mother-in-law, Eric couldn't bring himself to tell her the news. "I was trying to keep it away because it would be more stress on her." But, he said, they got through it together, like so many times before—and since. 

We'll have a setback, we'll figure it out and then we'll move forward.
He emphasized how important it is to let yourself feel your feelings. "Sometimes, you've got to cry," he said. "That's one thing me and Shalonda do. We'll have a setback, we'll figure it out and then we'll move forward."
There's another side to that coin, though: Because Eric and Shalonda are both so determined to keep moving forward, other people may not realize just how debilitating MG can be. This can feel isolating, both for those living with MG and their supporters. 

"People kind of say, 'Oh, she's not sick,'" Eric said. They might see pictures of Shalonda and think that she looks fine, he said, or chat with her at a social function not realizing that her vision is so blurry she may not even recognize them. That is, until they see for themselves what MG symptoms or a myasthenic crisis can look like. 

Even those who have a family member with MG may not know what MG can really be like. Eric described a time when his brother came to visit and saw firsthand what a myasthenic crisis looked like when Shalonda experienced one during his visit. He was shocked, Eric said, that this was something their family dealt with. This kind of acknowledgement from someone else may seem small, but for someone whose spouse has MG, it can feel like an important moment of validation. 

She just doesn't know how to quit. And that's what I love about her.
Eric has also drawn inspiration along the way from Shalonda's fierce determination. Her diagnosis, he said, has only made her strive harder for the things that are important to her. "She just doesn't know how to quit," he said. "And that's what I love about her."
For Eric, it's all about seeing her doing the things she loves, from the rewards she reaps from her work in education to the simple joys of dancing with the kids at parties. "To see her do the electric slide—it's a good thing," he said. "It gives me peace that some of the decisions I had to make, I did the right thing."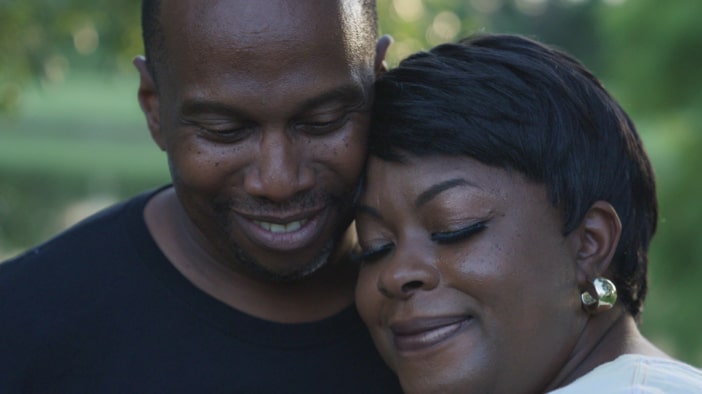 Today, Shalonda has hit her stride. She's thinking about what's next for her career—and possibly pursuing her doctorate.
"We haven't seen inside of a hospital in three years," Eric said. "And it's such a beautiful thing." As Shalonda's MG symptoms have receded, so has some of the ever-present worry that was part of their life together for so long. Eric can leave home for the day without the same fear he used to have about her safety. They're able to travel together again, something they both missed when Shalonda's symptoms were more limiting. And Eric has gotten a little time back for some of his other passions—like classic cars.
"I've got an '85 Mustang Convertible GT that me and my son found, and he wants to build it together," he said. When asked if his son shares his passion for classics, Eric laughed. "For cars, not mechanic work. He likes them already fixed!"