When he was just five years old, Victor's fatigue hit him at recess. His playtime quickly turned to sitting at his desk with his head down.
He'd later learn this was a common symptom of myasthenia gravis, but at the time, both he and his teachers just thought he was tired. This was the first of many times that school authority figures didn't realize what Victor was going through. And neither did his fellow students.
"Connecting with my peers was hard," he said. "As a kid, you really bond over stuff that you do together, and I couldn't do that stuff anymore. Like, I couldn't throw a ball."
It was at the young age of eight when Victor was practicing his violin one day—one of the many hobbies he pursued—that he became fatigued once again. "I remember starting to play and my arms felt like wet noodles," he recalled. "I got extremely weak and actually collapsed." After he was rushed to the ER, an on-call neurologist who happened to specialize in MG recognized Victor's symptoms. That was the beginning of Victor's myasthenia gravis diagnosis.
Victor remembers feeling misunderstood throughout his schooling experience. Although most of his teachers were aware of his condition, he often still felt the need to give additional explanations for why he was too exhausted or weak to do a task. These recurring experiences ultimately taught him how to advocate for himself, a skill that would prove valuable for years to come.
Learning from His Biggest Challenges
As Victor grew older and continued to explore different interests, he became enamored with creative writing, a hobby that didn't require physical exertion and allowed him to express his emotions.
"Writing really became a rock for me," he said. This passion led Victor to pursue a study abroad English program in London during the summer of 2018. One thing he did not realize, however, was the length of the commute between his host home and the university he'd be attending. Multiple train transfers and extensive walking, combined with an intense heat wave (a common challenge for those with MG), exacerbated Victor's symptoms.
Taking the time to rest allowed me to do the things I really wanted to do.
Victor recalls not being able to catch his breath. "I was struggling to stand up or walk, and I was very droopy in my face," he said. "It was a very scary experience because I was all alone in a foreign country." After talking with his mom on the phone and resting on a city bench for about 45 minutes, Victor recovered—and knew he had to make a change if he was going to maximize this trip the way he wanted. In addition to requesting a new place to live that would ease his commute, Victor found and set doctor appointments as needed and gave himself the appropriate time to heal.
"All that recuperation and patience with my body really paid off," Victor said. "Taking the time to rest allowed me to do the things I really wanted to do." Not only did this experience help Victor build his independence with managing MG, but it also shed light on critical travel tips that he prioritizes today, like packing his medication in at least two spots (bags, pockets, etc.) in case he loses one. He also recommends researching ahead of time the amount of walking required, carrying a water bottle everywhere to help with dehydration or choking and keeping a contact card with important healthcare information on hand that strangers can reference if needed. But above all else, these learnings empowered Victor to keep following his dreams despite his MG, rather than letting it hinder him.
If myasthenia gravis is a part of you, you need to work with it instead of working against it.
A Spotlight on Positivity
Victor also knows he's not alone in this journey. He discovered MG walks and advocacy organizations when he was a teenager and appreciated the way those events highlighted positivity—and he's on a mission to share that perspective with as many others as possible.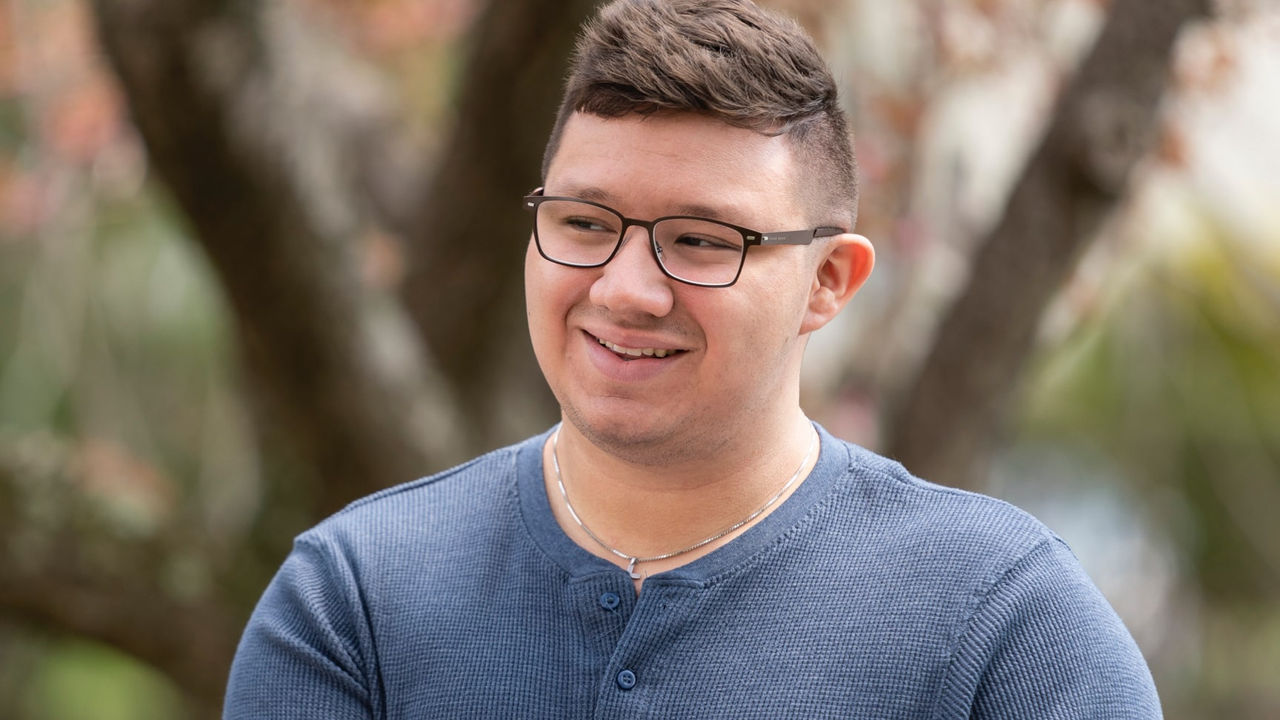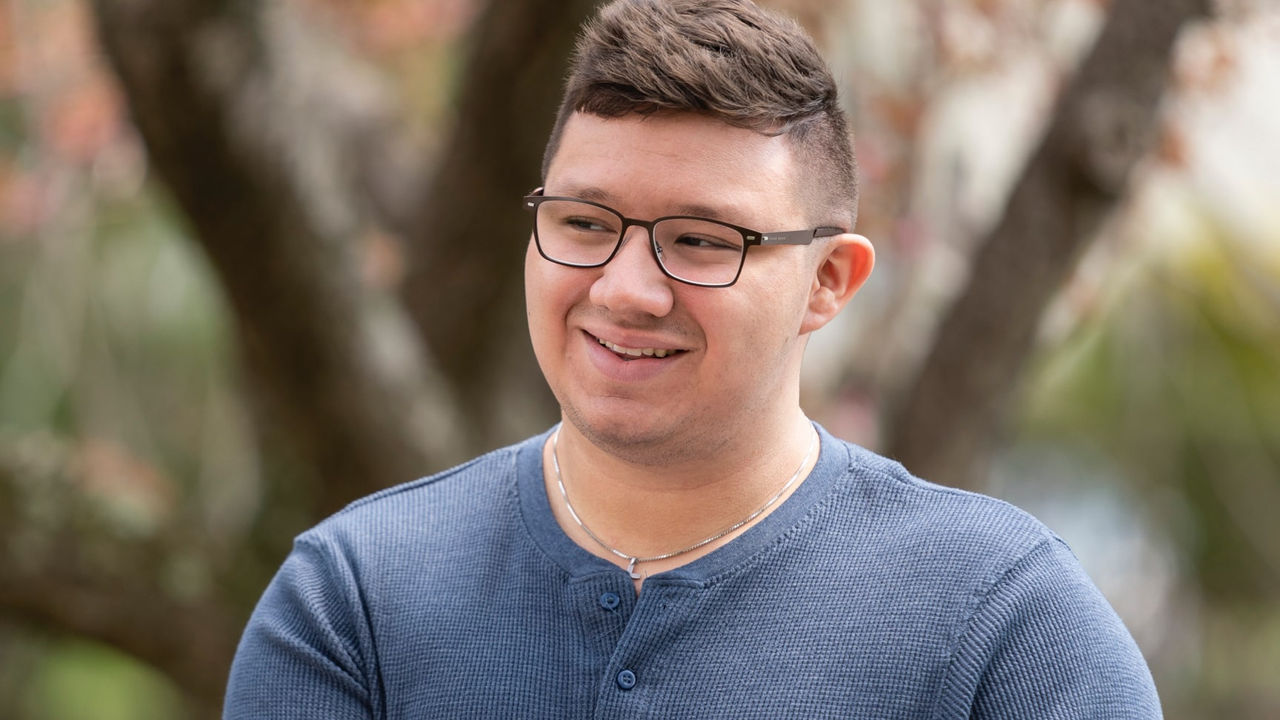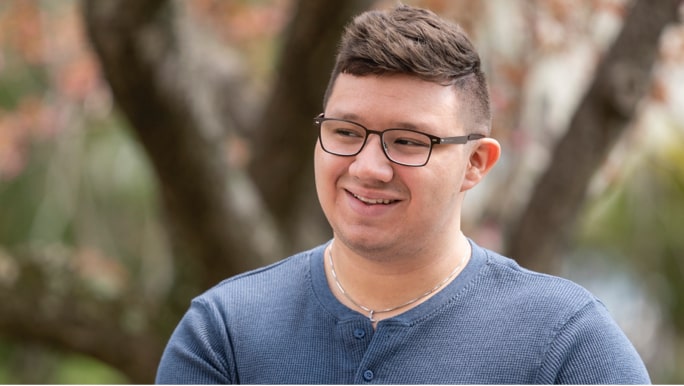 "If myasthenia gravis is a part of you, you need to work with it instead of working against it," he said, thinking of what may have helped him cope with MG when he was younger. "Stay positive and know that it can get better as long as you keep an open mind."
Finally, Victor emphasized that anyone living with MG should consider being up front about their disease with others so they can set themselves up for success. "Honesty and transparency about your illness can go a long way and be helpful to you," he said. "You can make it through." This approach has helped Victor devote himself to the things he loves, like pursuing a Master of Fine Arts degree in creative writing with hopes of becoming an English professor. From traveling to spreading positivity to writing and publishing as much as he can, Victor aims to live life to the fullest—and he hopes others with MG will be able to do the same.